A SHIFT IN THE CLOUD
Q. Is Cloud computing taking over the way we do things? Are our Investments in Server Rooms, Racks, and racks of numerous Servers, switches, and Routers, and all that wire management. Geeeze. Is it over? Is the computer room being phased out; Even for large corporations or Enterprise level networks?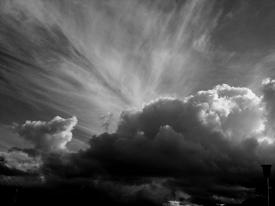 "Fact is, the size of the computer room of the future is going to reflect what is now the size of an IT Closet. "
Toss out those One Ton Dual UPS units out,(heck just those babies would be bigger than the closet never mind the rest of the stuff). Toss out that transformer, the servers, the ladder racks and all those Velcro cable wraps that are such a pain in the neck, however useful.
Routing and protecting traffic will still be a factor, but likely those neat Ethernet switches with the cascading architectures won't even be needed anymore. That means we can rid ourselves of those Velcro wraps because wireless will be perfected and be mainstreamed.

IT staff will soon disappear and a users favorite IT guy will be on the other end of the phone, and as we already expirence, even in another country. "As long as they can get past the accent of those foreign customer support and helpdesk techs, they will be just fine". So get used to it, it'll be around for as long as it takes someone to come up with another generation changing idea.
" C l o u d " C o m p u t i n g. It is the new Rage.
"Used to be that we used the term CLOUD as a metaphor in instruction to help define what the Internet is. Today it is not so. The Cloud as we new it, just got a new horizon, a new birth, the CLOUD is growing virtually in every industry."
---
---
BUT WAIT ! ! !
Cloud computing does present TWO huge factors that could override the bevy of benefits one gets when making decisions if it's a good fit for you or not. These two factors are:

Having your baby exposed out there on the internet, regardless if the sitters say they are trustworthy, is a concern. And moreover, the integrity of your data is a real concern to your clients!. You would be lying if your company applications are web-based, and you said your 100% in control of your company's data.

Human nature is as powerful as gravity itself when it comes to temptation.

In a perfect world the Cloud works, and in all cases would, but the introduction of human nature does not alow Cloud computing be perfect. Sensitive data always could be retrieved with-out you and your team knowing.

Were it not for monitary values that come with Cloud Computing, it likely would have never been started. But as it is, cloud computing will thrive and the reason is cold hard cash.
THE SHIFT IS INEVITABLE
Answer: Scalability
desire(modify) + Cost(reduction+control)= RUN (Result You Need)

In the Cloud one can always expand or scale up and modify capabilities quickly with modest investment.
With traditional client server roles much assessment is essential and it needs to be thought-through in detail. Much had to be discussed, such as compatibility issues, and general requirements to make that change. It required time, emails, meetings, presentations, investment in hardware most of the time, lots of time and time is money.

With "The Cloud", a company just needs to contact their host and tells them what they want, and ask them how long before they can have it.

The Host competes for business, so the cost will become well within budget, and the result is a very reasonable One Flat Rate.